To protect America's audio-visual patrimony, NEDCC provides services that take greater care and concern for materials than commercial automated processes.
The Northeast Document Conservation Center's (NEDCC), based in Andover, MA, is not a collecting institution, but rather a nonprofit that creates tools and services to help its clients—museums, libraries, and historical societies—with their preservation needs.  Preserving audio material can be so expensive that institutions often bid the work out to commercial vendors where the responsibility for quality-checks fall back to the client to save costs. However, smaller organizations often do not have the resources to employ an expert in-house with the technical savvy to check that materials have been digitized and preserved with the highest possible standards, and with no errors.
"If no one is listening to and checking the quality of these digital files right as they come back from a commercial vendor, then no one realizes it wasn't done properly," Bill Veillette, NEDCC's executive director warns. "In the world of research, it isn't unusual for something important to sit on the shelf for decades and then be requested all of a sudden because someone wants to write a great book. You don't want to wait until a scholar discovers that you are missing minutes of content or it is inaudible. By then, it's too late to go back because the tape will have degraded. That's why this window of opportunity is critical."
When NEDCC became aware that collecting institutions were putting perhaps too much trust in automated processes, they discussed the issue with the Mellon Foundation's Scholarly Communications program team. An ensuing grant has allowed NEDCC to develop a "differentiated service" based on quality and standards rather than automation, emulating a model that NEDCC used with its quality-oriented digital imaging service, a program that Mellon also helped NEDCC create.
"If a tape is being chewed up by the machine – you want an engineer in there paying attention immediately," he adds "We need a service approach like the one we've designed to do the really careful work to make sure it's 100 percent correct for collections where the stakes are high. For recorded town hall meetings, this may not be as crucial. But then take the Nixon tapes, for example, where there are already the infamous 18 ½ minutes missing. Do you really want to have more content go missing?" 
NEDCC has also contributed to the development and application of a technology known as IRENE (Image Recover Erase Noise, Etc.) whose expanded use stands to benefit the entire AV preservation ecosystem. Conceived at Livermore Berkeley Laboratory by MacAthur "Genius" Charles Haber, IRENE takes ultra-high resolution photographs of the grooves on fragile recording disks or cylinders and then, through special software, translates those images into sound. That means preservationists can make a digital copy of unplayable or exceedingly fragile source materials without the risk of further damaging them with a stylus or through excessive handling.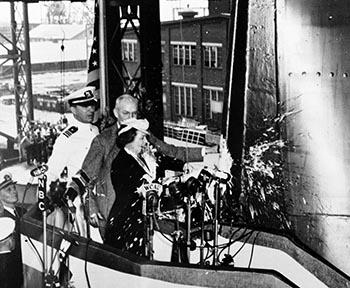 By way of example, NEDCC used IRENE to preserve sound captured from two transcription radio discs from the June 7, 1941, christening and launching of the U.S.S. South Dakota at a navy yard in Camden, NJ.  The remarks from the secretary of the navy and the music from a local high school marching band were recorded six months to the day before the Japanese attack on Pearl Harbor, and the ship would ultimately serve three tours during World War II, including two in the Pacific.
Perhaps most impressively, IRENE has helped to preserve recordings of an extinct language. In 2013, the Alaska and Polar Regions Archives at the University of Alaska Fairbanks (UAF) received a trove of materials from the late anthropologist Dorothy Jean Ray, best known for her ethnographic studies of native Alaskan peoples, and her husband, Verne Ray, also an anthropologist.  Among the items was a set of incredibly fragile glass-base lacquer disc recordings made in 1945 of natives of the Aleutian Islands who speak a dialect of the Aleut language Unangam Tunuu called Attu, whose last known speaker died in 1994.
As NEDCC began working on these recordings in 2016, staff learned that by coincidence, an important linguistic conference was to be held just weeks hence that would include a workshop with a native speaker of Attu's closest dialect. NEDCC prioritized the completion of digitization just in time for him to provide a basic translation of the recordings, which included songs and dialogue and which helped piece together a historical mystery of why the language had died. During World War II, Japanese forces had captured the residents of Attu and sent them to a prison camp in Japan. Of the 45 recorded prisoners from Attu, the 25 who survived could never return to their island, which had been a battle site and remained dangerous due to unexploded munitions. The speakers of Attu dispersed to other Aleutian islands, like Atka, instead.
NEDCC has also worked extensively with the Council on Library and Information Resources (CLIR) to develop and market its Recordings at Risk regranting program, which will cover direct costs of audio reformatting services. After awarding $150,000 in pilot grants, CLIR is primed to disburse $2.15 million in additional support—with awards ranging from $10,000 to $50,000—between June 2017 and May 2018.